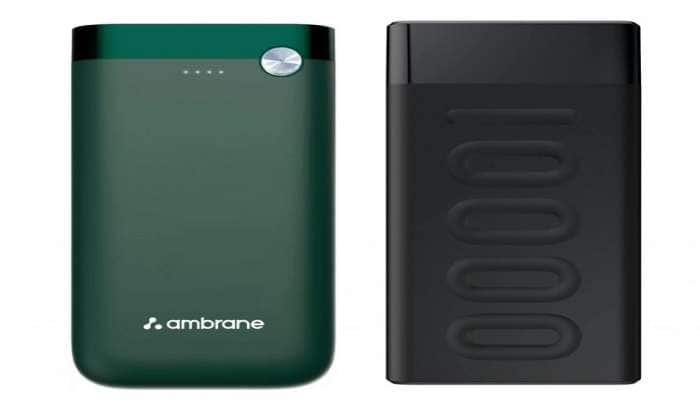 Ambrane, a mobile accessories brand in India, has launched three powerbanks. The company has named all three devices Stylo Pro, Stylo 20K, and Stylo 10K. The power bank will come with a USB-Type C port and will be equipped with Quick Charge 3.0. Ambrane is offering a 180-day warranty with this power bank and can be purchased from Amazon, Flipkart and the company's website.
Ambrane Stylo Pro
20W supports fast charging with 27000mAh battery. So that yuzers can charge it as soon as possible. It has 2 yuSB ports a micro input and a typed c port. Styls Pro is available in Green and Blue coloring and its value is 1999 rupees.
Ambrane Stylo 20K
The Embran Stylo 20K is priced at Rs 1,499. The Stylo 20K has a 20000mAh battery. It offers 18W power delivery and Quick Charge 3.0. This offers two USB and one Type-C port. It is also available in Green and Blue.
Ambrane Stylo 10K
Priced at Rs 899, the power bank has a 10000mAh battery and two USB ports. The powerbank is available in white and black. All powerbanks are certified by the Bureau of Indian Standards. All the power banks have been set up in Haryana. Significantly, the company has already launched a range of neckband earphones in India in April. The lineup includes Bassband Lite, Bassband Pro, Melody 20, Melody 11 and Trendz 11. They were priced at Rs 1299, Rs 2199, Rs 1499, Rs 1799 and Rs 1999 respectively.
The confrontation will be against Xiaomi
Ambrane's powerbank will directly compete with Xiaomi's recently launched powerbank Mi Boost Pro which is equipped with a 30,000mAh battery. It remains to be seen which product consumers will choose.