Asus ROG Keris Gaming Mouse Review | Best Gaming Mouse : So lightweight gaming mice have become all the rage these days, and now Asus has also joined the republic of cutting down the weight on their mice with their new ROG Keris, and while this is their first attempt at battling the mice with holes, I have to say that they have made really nice lightweight gaming mice with some very innovative features that other brands could also integrate.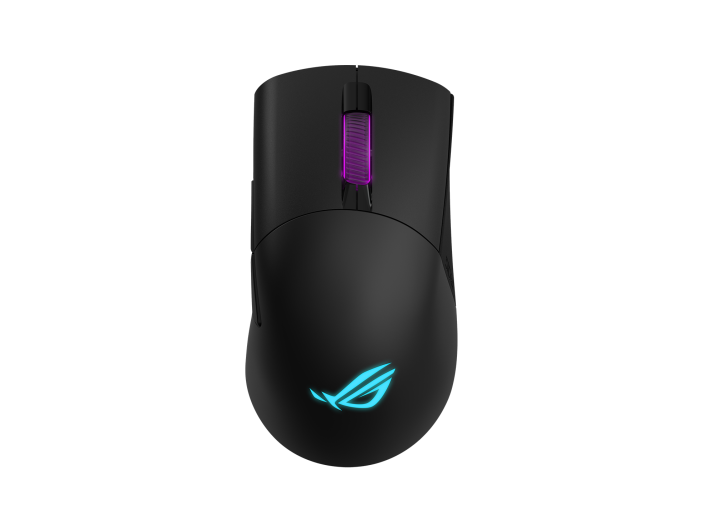 Hey guys, I am Ashwin Mali, and this is a 5000 Rs. mouse in India, which is around 70 US Dollars, so let's see if this will be a good option for you or not.
Design And Material
A speciality of the design of the ROG Keris is that it is packing lots of features inside while being very stealthy about it, which is a very different approach from the earlier ROG mice.
It looks quite simple from all its sides with its matte finish, but the glowing RGB ROG logo and the lighting on the scroll wheel do add some interest, without being very blingy.
What you may not notice by just looking at this mouse is that it has buttons are made of PBT material instead of ABS plastic, and that actually makes a big difference on its longevity, and how it feels,
because PBT is a much more durable material that won't develop the shine that ABS plastic develops after abrasion from your fingers, and we have seen PBT keycaps being a very popular upgrade to ABS keycaps on keyboards,
so getting that on a mouse brings the same advantages, so I don't know why PBT hasn't become a more common material in gaming mice, especially as it also makes the buttons feel grippier with its rough texture, and it is going to stay like this for a very long time.
The weight of this mouse is of course its highlight feature, and at 62 grams, it does feel very lightweight.
Instead of implementing a honeycomb hole structure that many mice are using, Asus has gone for an internal honeycomb design, which keeps the weight low without letting all the dust, and food get into the mouse, and it also won't trigger your trypophobia.
Shape
The shape of the mouse is what I have slightly mixed feelings about, because while it is shaped very well, the size of it is something that people with larger hands may find to be a little too small or narrow.
With my 19 centimeter hand, I found the mouse to be best suited for claw grip, I found it to be a little too narrow and small for hybrid grip, and palm grip was just not possible on this for me.
In comparison, I find the Logitech G102 to have a more versatile shape, and my pinkie finger is able to rest on it better. But for people who use claw grip, or have smaller hands than mine, I think this will feel good.
Buttons, Switches, Cable and Feet
The primary buttons feel very nice and clicky, and have extremely low travel. Asus is using their own microswitch on this mouse, instead of using ones from Omron, which I think is a better choice.
These are rated at 70 million activations, but the actual durability of these switches can be way lower than that, at least for Omron switches, so we'll have to see how well the ROG switch performs in comparison.
But I have to say that it feels very precise, and in case it starts double clicking, you don't have to worry because with Asus' push-fit switch socket design, you can easily just replace these switches without a need for any soldering.
You do get 2 extra Omron switches in the box, so you won't have to immediately order them from Aliexpress.
I have been saying that all other manufacturers should just copy this feature, because double clicking is a very common problem with microswitches, but maybe Asus has a patent or something, because this is a very basic and necessary feature, and it adds a lot of value to a gaming mouse because you won't have to worry about wearing the switch out.
The 2 extra buttons on the side are also really nice with their PBT like texture, and they also feel tactile and clicky with very less travel, The scroll wheel on the Keris is one of the best that I have used, it has a very grippy rubberized texture to it, and the scroll steps just have the perfect resistance and stability.
It works very well for switching weapons in game with its tactile scroll steps, and it also works fine for scrolling quickly through long webpages.
The middle click is not the best that I have used but it's a total non issue, and the lighting on it is done very tastefully, so the mouse gets a 9 out of 10 score for its scroll wheel.
The DPI button on the mouse is at the bottom, and it would have been better to have it on top like most other mice these days.
The cable on the Keris is also kind of special, as it has that tangle resistant design that Asus calls ROG Paracord.
It does work quite well, and doesn't slow you down, but other brands have been using cables of this type for a while so it's not a new feature.
We also have special feet on this mouse that are made of Teflon, so the mouse glides very smoothly on my cheap Redgear mouse pad which I use proudly, but I do think that they could have reduced the overall surface area of these feet to further reduce its resistance.
You also get replacement mouse feet in the box, so you can also replace these easily when they wear out.
Sensor
Finally coming to its sensor performance, it is a 16,000 DPI PMW3389 sensor, which is also used in other popular gaming mice from Cooler Master and HyperX, and it is a pretty high end sensor which shouldn't cause any issues while gaming.
I tested it in multiple games, and I didn't find any issues with the tracking itself, but I have to say that for my hand, I didn't find its shape to be the best among the 2 other mice I tested alongside it.
I think people with smaller hands should find this mouse to be very good, but it just felt too narrow in my 3.5 inches wide hand to be my preferred choice, and Asus' other mice like the ROG Chakram fit way better in my hand.
Software
ROG Armoury Crate software is a big step up from Asus' previous software, it allows you to easily set any function on the extra buttons.
You can also record macros, and set them to these buttons. Then there are options to change DPIs on different levels, and you can also of course customize the lighting and set different effects, or sync it with the rest of your system with Aura Sync on Asus motherboards.
You can switch between three profiles on the mouse, and store these settings to the onboard memory on the mouse, but I wasn't able to find the option to auto switch profiles based on which program you're running like Logitech Software.
The shortcut button to switch profiles requires you to press the DPI button which is at the bottom of the mouse, so you will need to lift it to change profiles, which is an inconvenience.
The software also allows you to calibrate the mouse to your mousepad, and it actually works quite well because before calibration, the lift off tracking distance for this mouse was 1 DVD, but after calibration, it stopped tracking with 1 DVD of distance, so that's pretty cool.
Conclusion
So in conclusion, I think that the ROG Keris is a very well executed mouse, and it is again very impressive of Asus to release something as refined as this on their first try on a lightweight mouse.
It looks very professional, the PBT mouse buttons do make a difference, the switches are really good and precise, the software works well, and the tracking and scroll wheel are also really great.
The easily switchable microswitches are really going to extend the life of this mouse, so all of that makes this mouse a very attractive choice.
But the shape of this mouse was something that I didn't find to be good for my hand size, and I don't have very big hands.
Some of the other mice that Asus has released have been quite larger in size, so even though Asus says that this should work well with all kinds of grip, I didn't find that to be the case.
But if you have smaller hands, maybe around 17.5 centimeters or less in length, and around 3 inches in width, then I think that you're going to find this mouse to be really great.
So at a price of around 5,000 Rs. or 65 US Dollars, it is a little more expensive than its competitors, but it does have some extra features which are worth it.
It is a very nice mouse, but just check your hand size before you buy it. It also comes in a wireless version with 2.4 GHz wireless and Bluetooth for 99 Dollars.
And that was it for this post, let me know what you thought about this mouse in the comments section below.